Global assistance 24x7
We are here to help you!
Fill in your details and
we will contact you soon
Fill in your details and we will contact you soon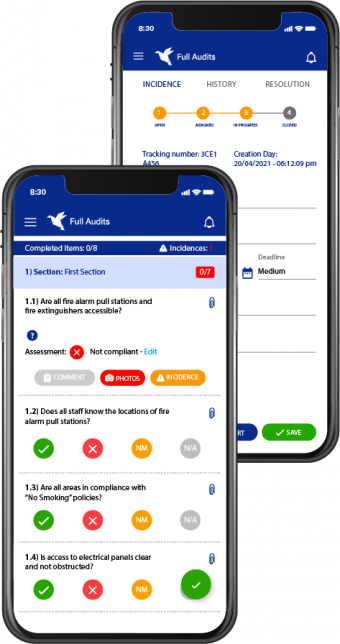 Clients that implemented Full Audits on their organizations
"I recommend Full Audits because it is very practical, easy to use and the benefits for the final user are great. It counts with an excellent service and  very good predisposition from the team. Among its benefits, I highlight the management of improvement opportunities or incidents, the immediate response to problems and the practicality for the auditor. "
Operational Supervisor
Solintar
"The application is agile, complete and allowed us to collect different types of evidence in a short time. It is easy to adapt to different processes, it is quick to implement and it is very useful to receive the report with statistics at the time the audit is completed" 
Supplier Quality Auditor
Trivento
"Full Audits is easy to use and allows us to generate reports in real time. It is very simple to collect information, including images in the field. We save a lot of time in the preparation of reports after the audit or inspection that we carry out in the facilities of our clients. It also allowed us to optimize findings and improvements opportunities management that we detect in each intervention of our consultancy."
"I highly recommend Full Audits because of the flexibility and cost offered for the management of any type of audit or project follow-up. The support of all the staff has been very professional, regardless of the schedule, I have always received punctual and timely attention.
Its implementation allowed us to achieve greater efficiency in the execution of audits and follow-up of action plans, more certainty and reduction in inspection reporting time and an executive analysis of findings that allow assertive decision making. "
Quality Manager at
Witzenmann Metal Products Mexico S.A. de C.V.
"The greatest benefits that the implementation of Full Audits brings us are the automatic data consolidation and the easy-to-read reports generated. It is user-friendly too."
Quality Manager
at Cono Group