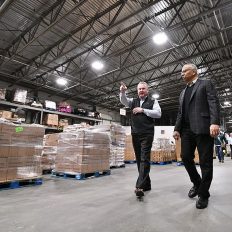 Checklist – Warehouse Food Safety (GMP)
The warehouse food safety checklistis used to inspect food production processes and facilities according to good manufacturing practices (GMP). Use this warehouse food safety audit checklist to ensure that food storage practices are compliant with international standards.
1.1. Are roads, yards and parking lots maintained to prevent sources of contamination?
1.2. Is there adequate drainage of outside areas that may contribute to contamination?
1.3. Are systems for waste treatment and disposal operated in a manner to protect against contamination?
1.4. Are steps taken to prevent sources of food contamination from bordering grounds not under the control of the facility?
1.5. Is there adequate lighting in all dressing and locker rooms and toilet areas?
1.6. Are the plant buildings and structures of suitable size, construction, and design to maintain sanitary operations and to produce safe food?
1.7. Are buildings, physical facilities, fixtures, etc. maintained in a good state of repair?
1.8. Are toilet facilities maintained in a sanitary condition and in good repair?
2.1. Are employees instructed to report health conditions that might contaminate food, food product surfaces or food packaging materials to their supervisor?
2.2. Are employees trained to protect against contamination of food by properly wearing & suitable outer garments, hair nets, beard coverings, etc.?
2.3. Are employees trained to maintain adequate personal cleanliness?
2.4. Are employees trained to remove unsecured jewelry and other objects that might fall into food?
3.1. Are all plant equipment and utensils designed to be adequately cleanable and properly maintained?
3.2. Are food contact surfaces made of corrosion resistant and non-toxic material?
3.3. Are freezers and cold storage compartments fitted with appropriate temperature measuring and/or recording devices to accurately show the compartment temperature?
3.4. Are cleaning and sanitizing of utensils and equipment performed in a manner to protect against contamination?
3.5. Are single-service items (paper cups, towels, etc.) stored, handled, and dispensed in an appropriate manner?
4.1. Are operations conducted in accordance with adequate sanitation principles?
4.2. Is there an appropriate quality control operation employed to ensure that food is suitable for human consumption and that food packaging material is safe and suitable?
4.3. Are all reasonable precautions taken to ensure that production procedures protect from contamination from any source?
4.4. Do raw materials or other ingredients contain levels of microorganisms that may produce food poisoning or other disease?
4.5. Are containers inspected to ensure they do not contribute to contamination?
4.6. Are raw materials held at temperature and humidity levels that prevent food from being adulterated?
4.7. Are frozen raw materials and other ingredients kept frozen?
4.8. Are hot foods maintained at 140°F (60°C) or above?
4.9. Are refrigerated foods kept at 45°F (7.2°C) or below as appropriate?
4.10. Are traps, sieves, metal detectors, magnets, etc. used to detect the inclusion of metal or other extraneous material?