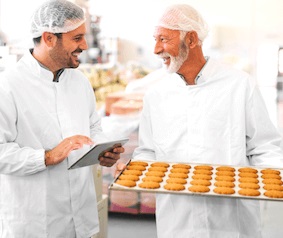 Checklist -Top 12 Food Safety Steps
Random critical inspection 12
1.1. Sinks stocked with paper towels, antibacterial soap, disinfectant, and 2 glove racks.
1.2. Sinks stocked with paper towels, antibacterial soap, disinfectant, and 2 glove racks.
1.3. Free of obstructions (including sink).
2.1. Most recent health inspection report available.
2.2. Documented follow-up actions.
2.3. All critical and non-critical violations corrected and maintained.
3.1 All sinks meet hot water requirements and are in good repair.
4.1 Temperature checks in the coil book are completed accurately and on time.
5.1. Approved and properly labeled containers/spray bottles used for the sanitizing solution.
5.2. Readily available disinfectant test strips.
5.3. The person responsible for the shift can demonstrate the proper use of the disinfectant test strips.
5.4.All open stations have accessible sanitizing solutions at the appropriate PPM (50-200) with correct color cleaning cloths dipped in the solution.
Smoothie Maker/Soft Serve
6.1. There is no obvious buildup in the carburetor tube.
6.2. All necessary brushes present, clean, properly stored and in good condition.
6.3. Blender/shaft area free of dry shake mix buildup.
7.1 All foods, containers, and chemicals in use listed on the Approved Brand List (ABL) unless specified in the OPS manual.
8.1 Potentially hazardous foods kept at room temperature marked with the proper shelf life and discarded when they expire.
9.1 Available pliers are required.
9.2 Cooked and raw tongs are kept separate and stored so that the handles do not touch the cooked or raw product.
9.3 All tongs, knives, PHU pans, shaker spindle, stainless steel iced coffee mixing cup, other utensils and grill-specific parts are washed/recycled every 4 hours when in use.
9.4 The person responsible for the shift can explain the system for changing tongs, pans, utensils and equipment specified every 4 hours.
9.5 Only Blue Tongs (in clean, sanitized containers) and Lift-n-Grip Tongs (stored on top of bag) store well on meat.
9.6 New or replacement product not mixed with old product.
10.1 Restaurant free of insects, live or dead rodents, visible rodent droppings or bird nests.
10.2 Most recent report from pest control operator on file with restaurant.
11.1 The person responsible for the shift can correctly demonstrate how to cook beef.
11.2 Outdoor meat performed and recorded at least 3 times a day (4 times a day for late-night or 24-hour restaurants).
11.3 No more than 3 cookouts missed or corrective action taken in a 30 day period/Any missed cookouts highlighted and initialed by the supervisor running the next shift.
Other critical violations
12.1 No evidence of communicable diseases involving team members (eg, cold, flu, stomach upset).
12.2 No cleaning products/chemicals mislabeled or stored with food.
12.3 Yellow cleaning cloths used ONLY in restrooms.
12.4 Only yellow tools, yellow cleaning cloths and yellow scouring pads (optional) stored in the bathroom caddy.
12.5 Backup drainage prevented in all areas.