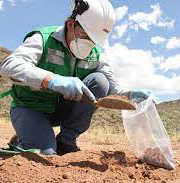 Checklist – Mine Environmental Safety Checklist
This Mine Environmental Safety Checklist can be used to ensure that the area properly stores chemicals, materials and other environmental hazards in the workplace.
1.1 Are there outstanding action items arising from previous contacts, internal audits, inspections, etc.?
1.2. Have the actions created been effective in addressing the problems raised?
Warehouse that includes deposit and storage of bulk hydrocarbons
2.1 Are the drums stored correctly?
2.2.Are storage facilities adequate?
2.3. Integrity of the pool, okay?
2.4. Proper and complete spill kits?
2.6. Spill or leak free area?
3.1. Are storage cabinets suitable?
Drainage and Water Management
4.1 Are sumps/traps well maintained?
4.2. Free-flowing drains free of debris/vegetation?
4.3. General maintenance of the work area?
5.1 Batteries stored safely and in embankments?
5.2 Batteries stacked no more than 2 high (unless separated by pallets and tied)?
5.3 Leak and spill free area?