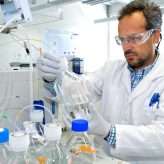 Checklist – Laboratory Safety Checklist
Laboratory Safety Checklist
1.1 Approved safety glasses are available and in use by employees.
1.2. Protective gloves that are approved for the hazards handled are available and in use by the employees.
1.3. Respirator use conforms to this facilities Respiratory Protection Program. Respirators are being worn properly.
1.4. Windows open and close properly
Chemical storage and handling safety
2.1 CHEMICALS are stored safely on bench tops and testing equipment to reduce the risk of spill or leaks?
2.2. CHEMICALS-segregated by hazard class and stored separately (flammables, acids, corrosives)
2.3. Employee are carrying glass chemical containers safely in shatter proof protective sleeves.
2.4. Gas cylinders properly secured, safety caps in place.
3.1. Emergency exit signs posted and clearly indicate direction of evacuation
3.2. Illuminated exit signs and emergency lighting tested and working properly
3.3. Food and beverages are not stored in the laboratory areas, refrigerators or in glassware that is also used for laboratory operations
3.4. Exits, emergency equipment, electrical panels & aisles clear of obstruction. No excess clutter present.
4.1 Broken glass containers are available and in use
4.2. Heavy objects are confined to lower shelves
4.3. Electrical cords are in good condition and are UL listed
4.4. Dirty lab coats are stored in a covered container until removed for laundering and are cleaned regularly.
4.5. Chemical Hygiene Plan and emergency action plan
4.6. Chemical Hazard warning signs posted on entrance to lab and hazard ratings (1-4) are correct