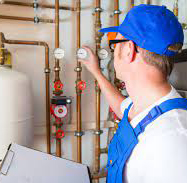 Checklist – Gas Operator Installation Device
Job preparation and customer service
1.1 Gas Safe card and correct ACS elements for the work to be carried out.
1.2. Reference material / Technical Bulletins available.
1.3. Visual/written risk assessment completed and recorded.
1.4. Hot work permit obtained.
1.5. Fire extinguisher available.
1.7. Customer service / work area preparation completed
Installation of gas pipes and valves.
2.1 Existing gas installation inspected to check its suitability.
2.2. ECV placed correctly labeled and operable
2.3. Entry point Primary bonding installed
2.4. Gas piping properly identified, gas line diagram required available
2.5. Gas pipe size support and routing are correct
2.6. Gas pipes are constructed of approved materials.
2.7. Gas pipe with sleeves and sealed sleeves
2.8. AECV/s correctly placed labeled and operable
2.9. Properly ventilated ducts and openings
2.10 Initial tightness test completed successfully
Installation of household appliances.
3.1. Appliance installed according to manufacturer's instructions
3.2. Smoke outlet/ducts installed correctly
3.3. Base/proprietary environment suitable for installation.
3.4. The ventilation is adequate for the requirements.
3.5. Proper workmanship/visual appearance
4.1 Electrical tests identified and completed correctly
4.2. Electrical insulation check successfully completed
4.3. Verified and proper fuse rating
5.1 Final leak test completed successfully
5.2 Purge completed successfully
5.3 All altered joints tested
5.4 Commissioned to manufacturers instructions
5.5 Visually inspected and correct chimney and support size build path completion
5.6 Smoke flow continuity check successfully completed
5.7 Case seal/spill tests completed successfully
5.8 Verified and correct size and vent route
5.9 Operating pressure and/or gas rate checked
5.10 Checked the operation of safety devices
5.11 Combustion analysis completed
5.12 Device/Associated Controls Functioning Properly
6.1 Safe work practices employed
6.2 Carrying out safety checks and calibration of electrical equipment.
7.1 Customer instructed in the use and instructions to the left / reset of controls
7.2 Documentation completed correctly