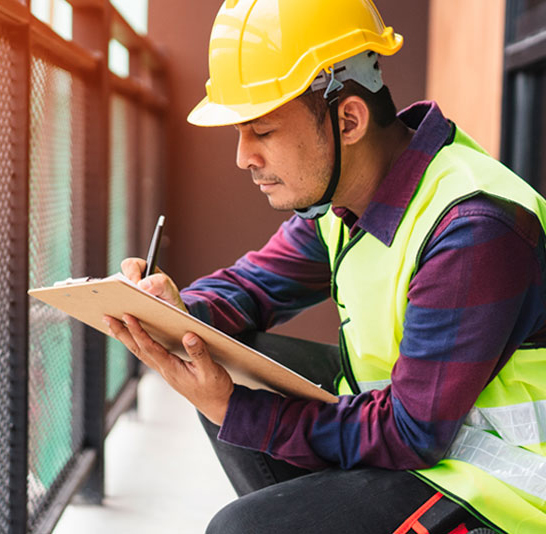 Checklist – Area Inspection
The joint inspection of the area will be carried out BEFORE the work begins on the site
1.1. Are site administration rules and policies displayed prominently?
1.2. Does the system prevent the spread of bad odours? Has a pre-startup meeting been held before construction begins?
1.3. Are all the forms in the system for this area signed and available to the personnel performing the task?
1.4. Is first aid equipment available?
1.5. Is fire fighting equipment available and inspected?
1.6. Is the cleanliness of the work area acceptable?
1.7 Has portable electrical equipment used in the area been tagged and updated?
1.8 Has all required lifting equipment in the area been inspected and does it have current tags?
2.1. Are proper surfaces and grades maintained?
2.2. ¿Se han colocado muros de contención para proteger de los peligros gravitatorios?
2.3. Are the retaining walls at an adequate height?
2.4. Are all traffic signs upright and visible?
2.5 Is the traffic control plan displayed?
2.6 Are all signs in the correct location and properly displayed?
2.7 Can machine operators meet the TMP requirements?
2.8 Are light vehicles parked in designated areas?
3.1 Have all pre-start inspections been completed?
3.2. Is all machinery in service up to date?
3.3. Is unsafe or out-of-service equipment properly labelled?
3.4. Do operators use two ways to communicate effectively?
3.5. Are all vehicle requirements met?
4.1. Are MSDS sheets available for all substances used in the area?
4.2. Are all storage areas marked out correctly?
4.3. Are all substances used in the area correctly labelled?
4.4. Are there visible signs of leaks or spills?
4.5. Is spill equipment available and easily accessible?
Personal protection equipment
5.1. Are all required PPE available and in good condition?
5.2.Do all workers wear the required PPE?
5.3. Is there sun protection available?
Environmental requirements
6.1. Are all sediment fences in proper condition with proper spacing?
6.2. Are all enclosed areas free of water, oil, and other liquids?
6.3. Are all enclosed areas free of water, oil, and other liquids?
6.4. Is there any evidence of sediment discharge beyond sediment controls?
6.5 Are relevant water diversion methods in place and working as required?
6.6 Are all semi-permanent and permanent stocks properly treated?
6.7 Are all accesses to the area adequate?
6.8 Is excessive dust generation adequately controlled?
6.9 Is excessive noise generation on the site adequately controlled?
6.10 Are there dumpsters on site and are they emptied as needed?
7.1 Are all work areas separated from traffic?
7.2 Are all tools and equipment properly stored and maintained?
7.3 Are all parts and waste materials disposed of properly?
7.4 Are all oil spills cleaned up as soon as they happen?